If You Need To Take A Break From The Jays, That's Okay!
So, I took a break from the hustle and the grind that we're all a part of week after week. I drove up to Wahwashkesh Lake in Whitestone, located in the peaceful Parry Sound District.
It was beautiful.
My girlfriend and I hit the dirt roads and drove deep into Ontario's finest land to escape from the noise. All the noise. It was perfect. It was quiet. And there were very few people.
I decided that I was going to go all in on this disconnection from the modern world, so I did not go on dumb social media. And I did not stare at the stupid screen on my smartphone.
I enjoyed the calm.
There was no Twitter, no Insta-whatever, or any of that stuff. I tried to catch fish. I didn't. But, I did eat like a savage. And I might have gotten a bit drunk a couple nights watching the Blue Jays continue to play really shitty baseball. I saw a fox. I didn't see any deer. And I really wanted to see a moose…
I didn't.
And since taking this well-deserved break from all the traffic and all the noise, so much has happened in Blue Jays land. So much losing. So much FIRE GOBLINS talk by all the ghouls.
The 'May Jays' sure as hell have led us down a bleak road where the hope of the second Wild Card seems left behind in all the shitty yesterdays that piled up one game after another. The wood is burning in the fire pit and it doesn't smell good at all.
According to FanGraphs, the Jays currently have a 3.3% chance of making the playoffs…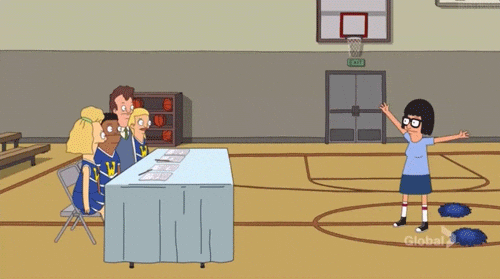 And JA Happ is the lone wolf (or one man gang) who has been the only steady piece in a rotation that was supposed to be pretty damn good this year. He's been better than all the others.
I'm not sure if you saw this little Happ-stat the other day during the Jays game, so let me just post it here:
It's been pretty ugly. It's been really bad. It hasn't been good.
Watching the Jays has been about as bad as having to sit through a marathon of Michael Bay's worst movies, with no popcorn, alcohol, or any fun kind of stuff – just water. Only water and 10 hours of Bay movies. That's how the month of May has felt for all of us Jays fans. And that's probably how the month of June will feel, too.
Things aren't going to get any better folks. And this Jays season is pretty much lost. And it's only June. And I can't believe that I'm typing this up because I am pretty damn optimistic, but I'm more honest than I am optimistic. And this is just the truth. Maybe I'm wrong, but I'm probably not.
It's only a matter of time before everyone is talking about who the Jays should trade and what the organization could get in return for certain players. And most fans already know that JA Happ is going to be the one guy that Ross Atkins will be getting a lot of calls about from GMs who are chasing their postseason dreams.
I'm sure Estrada will get dealt, too. And maybe Josh Donaldson. And a couple bullpen arms, as well. And so goes the talk of July, amirite? But, it's still June.
The fact is that these Jays have a 4-week window to turn this season around somehow – minus Josh Donaldson and Marcus Stroman – as I type this, so that's going to be a challenging thing to do. There have been too many bad innings that have added up to too many losses in too little time.
But, that's baseball.
The Jays will play 30-games from June 5th until July 8th. In the middle of June, they will play the Nats, then AAtlanta, then the Halos, and then Houston back-to-back-to-back-to-mother-effing-back y'all – so fun times. And they play 5-games against the dumb Yankees during that time, too. Two against the Pinstripes starting tonight. So, the bad can get worse. And the worse can continue to pile on top of all the bad. And Jays fans will howl with it.
Now, the optimistic me looks at these next 30-games and sees that the Jays are playing the Orioles, Rays, Tigers, and Mets, as well. So, maybe they can get hot and get back into it or something. But, the odds are that our Jays will not be making any kind of run for any kind of wild card fun this year.
And it's okay.
Maybe I'm wrong and there is still some kind of a road to a wild card ahead. But, that road is more like a pipedream that leads to nowhere-land.
As I type this, the Jays are 26 – 33. If they are going to convince the Toronto front office that they are better than they are (which they really are), then they will have to win some ballgames now. They will have to start piling good day after good days and win after wins starting yesterday's...yesterday.
The Jays would have to go 20 – 10 in their next 30 games to be 46 – 43. So, they would have to play .667 baseball starting Tuesday to show Shapiro and Atkins that it's not time to sell.
Could this happen? Crazier shit has happened. It is baseball.
But, if it doesn't happen and the season continues south on the sideways road to baseball hell and you don't like it, then it's okay to take a break from the Jays. It's better to take a step away, then to make a bunch of FIRE GOBLIN noise after every loss.
That's just dumb.
If you took Sparky Anderson, Bobby Cox, Tony La Russo, Joe Maddon, Jim Leyland, Tommy Lasorda, and John Gibbons and combined them all to create the super baseball manager of all time, the Jays would still have a shitty record today.
So, take a break if you need to.
Escape the noise.
It doesn't make you a bad fan or anything.
If it's not fun anymore, then it's good to step away. I just got back from a great escape up north and enjoyed all the silence and calm. I enjoyed the smell of the wood burning. I enjoyed every day away from my dumb phone. I still watched the Jays, of course, but I have lived through many shitty years with this team.
It's not always going to be a bat-flipping good time, but this organization is heading into the Vlad future no matter what happens this year. That's something to be excited about. So, if you need to take a break until then, enjoy the calm because a raucous future waits. And the future is almost here. Let's just call this future: PLAKATA!