In Steven Spielberg's classic 1993 film 'Jurassic Park', the awesome Jeff Goldblum delivered this famous line, 'Life, uh, finds a way." This cool character understood that there was no way of knowing for sure when it comes to Mother Nature.
Many Blue Jays fans were reminded of this on Monday when a chunk of ice fell from the CN Tower and crushed the belief that baseball would be played in Toronto because we have a roof – a protective Dome to ensure that the game is always played.
The Toronto Blue Jays Twitter team even gloated about this in a tweet – that has since been deleted: "Weather Update: Due to our stadium having a roof, today's game will be… Played as expected."
And I even took part in the Toronto-gloat-fest, as I pretty much posted the same message on my dumb Jays Droppings Instagram page – I deleted it because I'm foolishly superstitious and don't want to jinx any future games.
Most Jays fans woke up on Monday feeling confident and excited about baseball being played after the weekend washout in Cleveland because freezing rain, ice pellets, snow - or any torrential downpour can't stop baseball in the place we all call 'Dome.' But, Mother Nature had different plans, eh!
There is definitely a lesson to be learned here: as much as we think we are in control – we don't control shit. And for this reason, it's always important to be prepared for the worst – kind of like what Mark Shapiro and Ross Atkins did this offseason by acquiring a ton of real depth for Troy Tulowitzki inevitably hitting the 60-Day DL.
As much as it sucks to think about the worst possible scenario, it's smart to be prepared for it. Monday was a reminder to all Blue Jays fans that there are no certainties in life and just when you feel so sure of something, it can all go to shit faster than the ball leaving the bat off of a Carlos Delgado home run.
The universe will pull the Rogers Centre carpet from our feet whenever it wants to and there is not a damn thing that any of us can do about it, except get the hell up and keep on pushing on.
I'm not trying to write up some sort of in-depth paper on life – or anything. But, yesterday was a nice, soft reminder that anything can happen, especially when we are so sure that nothing could possibly happen.
Many moons ago, I used to bartend in a hoity-toity boutique hotel in Yorkville where I met and spoke to the great John Malkovich, who was staying there while filming the first 'Red'. He would come to my bar everyday, order a half-coke/half-soda drink, take a few sips, rip off the filter of his Marlboro and go outside and smoke it.
We would talk music, film, and life and kind of developed a cool little relationship. When the filming ended and it was time for him to press on, he came to the bar to say good-bye, and I remember asking him if he had any advice for me. He told me to keep my hair. I'm not sure if I have any control over that, but so far it's still all there.
I wasn't sure what I was going to write today because Blue Jays land has been slow lately, and I'm not about to write up some sort of piece about how the break is good for the Blue Jays.
I thought about writing a letter to Mother Nature and asking her to cooperate with us baseball fans because it's winter in April and April seems very drunk, but I decided to pass on this dumb idea.
Nature is just going to do what it does and getting upset about a few cancelled baseball games is the definition of a first world problem. I just think we sometimes need to be reminded of how you never really know in life.
The best example I can think of would be the 2015 good Birds of Summer, who went down 2 – 0 in a best of 5 series against the shitty Rangers. There wasn't a Blue Jays mind out there that could've predicted how it would all end. There was no way of knowing what was waiting around the baseball corner. There was no way of knowing that it would end like this: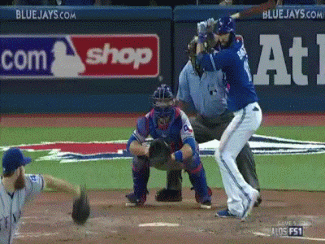 And that's what makes life so effing fun.