Russell Martin Likes His Rotation!
"Everybody's got their own style. Everybody's different. Is that necessary, I don't know. But it can't hurt." – Russell Martin
Martin spoke to local writer Rob Longley about the Blue Jays' starting rotation and shared some interesting spring training thoughts. Now, it's definitely no effing secret that the success of the 2018 season is going to depend mostly on the starting 5 hurlers who will take the ball on the ol' dirt hill. If the team is going to repeat any of the success that they had in 2016, they are going to need strong performances from their starting pitching.
Now, I'm not going to take the thought train down the negative track, nor am I about to wonder down some naïve path that leads to dumb broken dreams. But, we all know the important ifs that must happen for this year's campaign to be more cheers than jeers, amirite?
And if the starting rotation can remain mostly healthy, things should be fine. And if Aaron Sanchez can return to 2016 form, things should be really fine. And if Stroman can continue to shimmy shake with his nasty slider, things should be damn fine. And if Estrada can paint like the goddamn Picasso that he is, add more fine to the fine equation. And if Happ can be the lefty horse that went 20 – 4 in 2016, that's as the millennials would say hip AF. And if Garcia can be a solid 5th man, well you get the damn picture. It will all be more than fine. Just fine.
Now, obviously, the rotation will have its share of minor injuries and soreness because that's just baseball. And they will have bad outings and they will hang pitches and toss the odd meatball and not be perfect every fifth day because that's also just baseball.
But, if they can be mostly good, then that means that they won't be mostly shitty. It's simple math. And mostly shitty is what leads to shitty records and empty seats in July. But, there is no reason for this starting rotation not to be mostly good, especially if most, if not all, the ifs we are hoping for happen.
So, let's take a look at what Martin likes about his rotation and let's keep our fingers crossed for him to have a healthy season because holy shit Martin is a valuable part of the 2018 year…
***
Aaron Sanchez…
Even early on I could tell that the arm strength was there, the movement on the fastball was there. The change up is nice. He has the same arm speed on that pitch and he looks like he's starting to trust it a lot more. He's got a great curveball to go with that … Sanchy looks really, really good. Looks strong, healthy and hopefully the blister doesn't become an issue this year ... The goal is to keep progressing. He definitely looks just as good as he did in 2016.
And with all the positive praise that Sanchez has been getting all spring training, it's hard to not feel a little optimistic here folks. Everything seems to be fine, so far. I've said this before and I will say it again: If the real Sanchez returns, then the Blue Jays have added an ace this offseason. How many teams in the AL East have done that?
Not too many, so that's something you fine hosers can drink to, eh!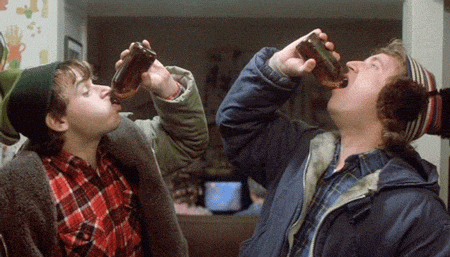 J.A. Happ…
The fastball is good, both sides of the plate he's been working on a couple variations of the fastball and how to use it. He still has that knack for throwing that four-seamer top of the zone and getting a swing thru. That's a good punch out pitch for him still. I feel like his slider has gotten a little sharper, which is going to help him a little bit. He's a four-pitch guy for the most part, but does most of his damage with his fastball and he seems like he's pretty much the same guy as last year.
And when I interviewed Ross Atkins earlier in the year for Blue Jays Nation, he told me that Happ is "Unbelievably hard-working and focused. He has minimal distractions in his life, in his approach to professional baseball and is in my opinion, one of the more underrated starting pitchers in professional baseball."
Marco Estrada…
Marco's just Marco, he's like an artist out there. He just paints … When he's on, he's very stingy with the middle of the plate. He'll just pick corners. And the change up is in my opinion probably the best change up in the game. He's a command guy. His fastball plays up a lot because of the deception on his change up. He gets a lot of guys sitting on that change up and then his fastball, the way hitters are reacting to it it's like it was 95 to 100 miles an hour.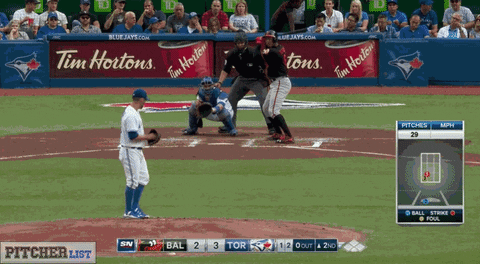 Pablo effin' Picasso.
Marcus Stroman…
A lot of movement on his sinker. He should get a ton of ground balls. He's just got that natural competitive spirit that allows him to play well. He just loves to compete, loves to prove people wrong. He likes to be challenged and often rises to the occasion … Stro looks good. He's a little bit behind schedule but the fastball was good. Small sample size (Saturday's game) and playing 16- and 17-year-olds but it doesn't matter, the action on the fastball was good … He threw some really good change ups as well which was good because I feel it used to be his fourth pitch and now it's moving up the ladder a little bit … The key for him sometimes both breaking balls look like the same pitch and you have to let him know. You do want the difference between the two — the shortness of the slider and you want the curveball to be more of a 12-to-6 action to it.
Jaime Garcia…
The two-seamer the sink, it moves, there's good action on the slider, good curveball. He's a four-pitch mix guy but I really like the action he gets on his pitches, especially the fast ball. He can cut it and sink it on both sides of the plate so the hitter never really gets a free pitch. Nothing's straight. He's going to be a tough at bat … He just has that good pace to him. He wants to get the ball and get going.
And a lot of fans out there howled into the dumb void of dogshit over this signing, but Garcia is a solid fifth arm in the rotation. And with Biagini probably down in Buffalo and some of the other arms that they will have in AAA, the good Birds of Summer at least now have some depth that isn't Mat 'meatball' Latos.
***
It will certainly be fun to see this rotation get out there and get to work on the ol' dirt hill, but it will be just as cool to see Martin calling the games behind home plate because if there is one thing that 2017 definitely taught us, it is the importance of a solid catcher. And Martin is just as important to the success of the 2018 season as the guys he catches. But, if Martin happens to go on the shitty DL, there is a certain Jansen kid in Buffalo waiting in line, but that's a whole other discussion…