Josh Donaldson: The Bringer Of Bacon!?!?!
So Twitterland exploded with a wail of millennial OMGs, WTFs, and bleak FMLs when news broke that Josh Donaldson and the Toronto FO are not seeing 'eye to eye' on the terms of a potential contract extension.
And how is this surprising to anyone, seriously? Because to be honest, I was enjoying my day off yesterday, minus the shitty breakfast experience I had at some stupid fancy boutique hotel in Toronto, where I decided to treat myself to something a bit better than the greasy spoon I always go to, but was served cold AF shitty eggs and bacon-bacon for an unreasonable price. I ate the bacon-bacon, but didn't touch the gross eggs. That place sucked.
I digress. But the thing is, I expected to get a damn good breakfast at this overpriced shithole and I didn't. What I have never expected is that the Blue Jays would extend Donaldson this offseason. This impasse is not a surprise, not at all, so what's the cussing fuss people? The JD eggs didn't come cold; they came as expected, amirite?
Now, it's definitely going to be a bit of a topic now – not that it wasn't before – about the whole should they offer him 4yrs or 5yrs and for how much and blah blah blah goes the thought train to Palookaville.
Any writer out there can explain why the team shouldn't offer any more than 4yrs – or 5yrs max and give a list of reasons, but the fact is that JD is going to test the market and look for a contract that takes him into his late 30s.
Now, whether he gets what he wants is a whole other story for all us birds to caw at. Sadly, he is no different than any other human and time does cut like a goddamn 'Bryan Adams' knife. So, even if Donaldson does actually believe he can be a WAR machine deep into his late thirties, I'm not sure how many organizations will concur:
Now, after learning about the deal JD Martinez received from the Red Sox, this sure does put things into perspective for Donaldson, one would think. And Andrew Stoeten says all that needs to be said about this whole topic, so if you feel like reading about it and moving on you should. And here's a juicy bit in it that is definitely worth highlighting:
UPDATE: Martinez details are rolling in, and it's interesting. It's a five year deal, with an opt-out after year two. Bob Nightengale says it will be for $110 million. There's not much value to Donaldson to have an opt-out, so that's probably not an aspect that would be copied, but the price tag is indeed interesting. The aging curve that Edwards used at Fangraphs puts Martinez at 14.2 WAR over five years. This means that, if we buy the 17.8 WAR average as Donaldson's baseline, Josh should certainly be in line for more than that. But man, if Martinez can only get five years, even that seems maybe a tall order for J.D. Teams are being disciplined.
UPDATE PART TWO: And the other thing about Martinez as a comp is the fact that, though their WAR totals aren't comparable, if you worry about Donaldson's defence (which I probably don't think you should yet, though his metrics have an ugly trend to them; UZR by year since 2014: +15.5, +9.2, +4.2, -0.9) and think maybe he's it's really the bat that we need to think about most, he and Martinez (who provides no defensive value — especially now with Boston, where he'll mostly DH). Donaldson's last four years by wRC+: 130, 154, 155, 149. And Martinez? 154, 136, 141, 166. If you're paying Josh more than Martinez, you're basically doing it for defence. You'd also be banking on a similar decline despite their age difference. Neither sounds especially smart.
Now, all of this makes complete sense and when next year's Donaldson offseason talks begin to catch fire AGAIN, it will be interesting to see where he ends up signing and for how many years.
There really is no reason for typing up all the blahs to fill this page about why the team should only offer him 3yrs – or 4 max and how it doesn't make sense for the team to get trapped in a bad contract because we all know this tune and it's unoriginal.
Stoeten makes interesting comps between Martinez and Donaldson and those numbers are probably going to dictate the deal that Donaldson will receive when the time comes, so make it happen Jays.
Is there a team out there willing to give him closer to what he wants than Toronto's FO? I'm going to guess that there is folks. And will all the fickle fans howl into the void if that happens next offseason? Damn right, they will.
They will howl so fucking hard into the 'shatkins' wind that I will probably type up some future piece about it - if and when that happens. But, one thing I do know, and I wrote about a couple weeks ago, is that if this is Donaldson's last season with the Blue Jays, let's enjoy it.
Now, I hope that Rogers can kick some extra cash over to the FO to keep JD around because the team will be better in the future with him than without him, depending on the length of the contract. There are ways to make this work, so what about it, Rogers? Gimme. Gimme. Gimme. We need. We need. We need.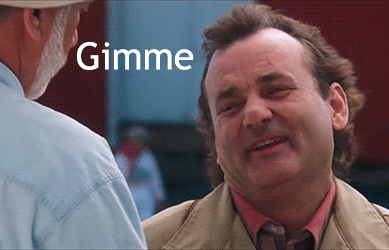 In all seriousness though, one thing that hasn't been mentioned during this little dramatic offseason flare is how professional Donaldson has been about it, and he certainly has shown it by saying things like this:
To me it's just not that big of an issue to focus on it right now or throughout the season. Because I don't feel like the time is right, at the moment, and I just want to focus on what I can do to be better and what I can do to help other people in our locker room better.
And this:
I talked to Ross (Atkins) and explained to him that I think it would be best just to shut that down for right now. I feel like it's best for me to focus on myself and focus on this team because that's what I know is going to help us win games. But that's not saying that talks between the Blue Jays and I won't ramp up again at some point, because I believe they will.
And damn right they will. Oh, yeah, he also said this:
If they didn't want me, we wouldn't be having any kinds of discussions at this point. They've been very good with the communication process, but we just aren't eye to eye at this moment.
So simmer the cuss down everyone because the two sides just aren't eye to eye at this moment, but they might be down the good ol' baseball road.
But this was the least surprising news I have heard all offseason, because did any of us ever believe that he would re-sign this offseason, seriously? I didn't.
I was more surprised by the shitty breakfast I got from some fancy little hotel in downtown Toronto than I was about this news, but it serves me right for going to a shitty fancy place for some damns eggs and bacon. What the hell was I thinking? Really? Anyway …
One thing I do know is that the Blue Jays will not trade the Bringer of Awesome come trade deadline because the good Birds of Summer will be playing for the Wild Card this year and for their 3rd consecutive postseason in 4 years. And you heard it here first folks. So until next offseason, let's stop the JD talk, and enjoy watching him play for our Toronto Blue Jays.