If What Pete Walker Says Is True About Aaron Sanchez, Then The Blue Jays' Starting Rotation Is As Go
Pete Walker spoke to TSN about Aaron Sanchez and the good Birds of Summer's starting rotation and had some stuff to say that should get us feeling a bit more effing happy here folks. So, I'll cut right to the damn no-blister chase:
About Sanchez …
Aaron's been great. Um, I'm very pleased with where he's at right now. Obviously, Luke (Maile) feels pretty good about it; I do too - Aaron especially. The arm swing is great. The finger feels good. The action on the ball is outstanding. It looks like the Aaron of old. So, ya know, so far so good. I don't expect any setbacks. I think that finger thing is in the past, um, and we're moving forward. I expect him to look sharp down here in Spring Training.
Cue a hell yeah to all of this, as so much of this season does depend on whether or not Sanchez returns to the 2016 version that we all expect. If he is the 'Aaron of old', then the damn Birds have just added an ace back into their starting rotation and that's something not too many teams have done this offseason.
About the rotation …
It's a good group, a strong group, and a reliable group as far as I'm concerned and with a decent track record. So, ya know, experience building – any one of those 5 could certainly give us a quality start and give us an opportunity to win. And, ya know, led by Marcus, J Happ, and Estrada – obviously those are some solid names and guys that have proven that they can do it at the Major League level. Ah, Sanchie, obviously the year before led the American League in ERA, so we're expecting him to jump right back into that mold. He looks great so far and again I expect him to have a really great Spring Training, too.
And if this rotation can stay healthy, there is no reason that the Blue Jays can't be in the Wild Card mix this season. Sure it's a whole lot of 'ifs', but then that's the case for most clubs at this point in time.
With the recent addition of Jaime Garcia, the Blue Jays have arguably one of the best rotations in the American League. And with with the possibility of Biagini as the 6th man down in Buffalo and the likes of Borucki, Pannone, Rowley and Santos there as well, the Blue Jays have some real depth in AAA.
Now, Mark Shapiro said that if you look at the success that the team had in '16, getting to the ALCS, it was largely driven by the pitching staff and not by the hitters. And, yeah, you can't argue with the man, or the numbers, as the Blue Jays' collective team ERA was 3.79 and their 19 WAR was ranked the 6th best over at FanGraphs. So, if the Blue Jays are going to be successful this season, the starting rotation is going to have to give the team quality starts, which we all know anyway.
Earlier in the month, Bleacher Report projected the Blue Jays to finish 3rd in the American League East with a record of 82 – 80. They had Cleveland and Houston projected to go 103 – 59, the dumb Yankees 95 -67, the shitty Red Sox 90 – 72, the Angels 88 – 74, and the Twins 86 – 76.
And I know that there is some math that goes into making these predictions, but projections are still just spit in an ol' metal can on the porch of some old man in Texas named Ted – or maybe Bill, not sure – to be honest.
The fact is that if the Blue Jays are going to get at that Wild Card like John Candy did the 96er (The Great Outdoors? Damn right.)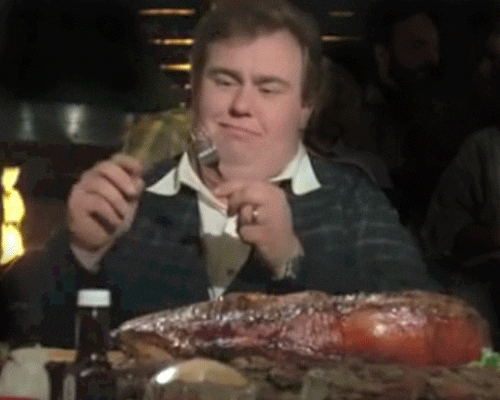 Anyway … If they are going to get at it, the Angels are probably the biggest threat, not that good ol' Paul 'Molly' Molitor's Twins are a write-off, especially after landing Jake Odorizzi for who?!?!
But, thank cuss he's out of the AL East anyway because Odorizzi was kind of good, going 5-3 with a damn 3.21 ERA in 15 goes against the Birds - so there's that. And with the departure of Longoria from the Rays over to the Giants, the good Birds of Summer should be able to finally collect some damn wins against the Rays this year.
In any event, although I might be a bit biased here, the Blue Jays look to have a better starting rotation than both the Angels and the Twins. And you know what, they can hurl with the 'big 4' in the American League, as well. And I'm not typing up a bunch of hooey here, but let's just look at where the good Birds of Summer stand against their Wild Card rivals for the upcoming season.
Even with the addition of Odorizzi, the Twins don't have as strong a rotation as the Birds, but the one thing they do have going for them is that they play baseball in a dogshit division, where they play really really shitty teams like the Royals, Tigers, and White Sox. It sure isn't the AL East. And there is nothing the Blue Jays can do about that.
Now, as we all cussing know, the Angels acquired Shohei Ohtani, but that doesn't mean that they have a better rotation than the Birds. The truth is that they face as many, if not more, ifs as the Jays because a whole hell of a lot of the Angels success is going to depend on the health of their starting pitching.
Mike Scioscia said that the Angels have decided to go with a 6-man rotation this year and it's all designed for Ohtani, as Japanese League starters usually pitch one game a week – adding up to roughly 25 starts a season, whereas in the MLB, starting pitchers get out to the ol' dirt hill about 32 – 33 times in the season.
So the Angels will be counting on a bruised up kind of who-is-recovering-from-something mix of pitchers in 2018, with Garrett Richards, Matt Shoemaker, Tyler Skaggs, Andrew Heaney, and J.C. Ramírez, who are all recovering from some sort of ulnar collateral ligament damage or Tommy damn John or more torn ulnar collateral damage. And I'm not being hyperbolic here folks, but there are a shit ton of 'ifs' in the Halo's rotation.
It's also worth noting that Richards, Shoemaker, and Heaney made only 25 starts in '17, so there is a whole lot of 'if the rotation can stay healthy' kind of talk happening in La La Land this offseason, too.
I digress. It's just that I know a lot of fickle Blue Jays fans out there have already written the Birds off this season, which, is just what fickle fans do. But, the Toronto FO have been sneaky good this offseason by moving on from Goins and Barney, acquiring a logjam worth of depth in the infield and outfield, and adding a damn good 5th man in the rotation. And let's not forget that this 2018 season won't have the (and this pains me to type) 2017 version of Bautista in the lineup.
So if Stroman, Sanchez, Happ, Estrada, and Garcia can stay healthy and give this team quality starts, the Birds might just be a bit better than a lot of people out there think. And if Sanchez is the Sanchie of old, well, then the team just added an ace into their rotation that could see them reach the heights of 2016.