(This video (pic) was made by somebody in the Tim and (the clown) Sid's camp)
There are so many different Blue Jays thought roads to take on this over-the-goddamn-.500-Wednesday-bump-in-the-road-to-the-weekend-day-of-why-can't-we-all-just-be-rich-and-take-the-cussing-day-off-but-we're-not-so-we-suck-it-up-like-champs-and-press-on, so who knows where the thought train should choo-choo to today.
It'd be real easy to type up a KEVIN PILLAR REALLY NEEDS A DAY OFF PIECE – that's for sure, as it's been quite obvious he has not been the man of April. And since his homophobic Atlanta slur, he's, well, been just Michael Jackson 'BAD' at the plate and all Jays zealots know that:
… the whole world has to Answer right now Just to tell you once again
Who's bad
Kevin Pillar (insert sigh emoji)
... And let's hope the 'super' that was the 'man' in the spring can get that groove back, so maybe the man of steel just needs a little rest, am I right?
I could also write about the possibility of finding a better person to hit leadoff now that Pillar is slashing numbers that look like the calorie intake on one of those 'Special K breakfast bars', don't you think?
I could also probably write about the days of Tulo's past, and how I hope they come back for Tulo's tomorrow's, BUT I'm not going to do that.
Hmm … I guess I could write a piece about how desperately the good Birds of summer NEED TO GET AARON SANCHEZ BACK IN THE STARTING ROTATION BECAUSE IF HE WERE HEALTHY, THIS TEAM WOULD BE OVER .500 BY NOW, but-he's-not-and-the-team-isn't-at-.500 … YET!
But I will take the pass on that idea, I'm sure Richard Griffin is working on that one right now. But seriously, could those godamn blisters heal already, like holy cussing shit, it's almost July damnit.
What else is there to write about? Oh yeah, of course, I could do a fun rant where I try to channel the frustrations of Jays fans, as we have all watched the many failed attempts to get to .500. I could probably just rant on, make a few jokes, tape together some thoughts, try to place a well-timed cuss in there somewhere, BUT what's the point?
Well, I guess, I can tell you the point, and it's .486 and last night it was .493, and it continues to oscillate between numbers very similar to these, there's that.
BUT THE BLUE JAYS WILL GET TO .500 AND PASS THIS CUSSING NUMBER, YES THEY WILL!
It's only a matter of time (insert eye rolling emoji).
So since I'm going to take a pass on these ideas, I think it would be more fun to take the trash road from the BuzzFeed land of the big millennial LOL.
Yes, I'm going to go with the BuzzFeed formula of a blog post filled with a lot of GIFs or pictures to a theme, with a little commentary, so that people can quickly scroll through something fun, as they waste time at work.
So as all Blue Jays fans know, last night was another failed attempt to get to the land of .500, wasn't it?
And the more of these games that the good Birds find themselves in, the more you start to feel like the Jays are like 'Peter McNeeley' versus the big bad 'Iron Mike .500 Tyson', who looks like a savage, and is ready to serve his big Nintendo 'Knock-Out' punch to .486, am I right?
So let's just cut the hooey and go at this 'BuzzFeed' trash style with a little commentary about how the Blue Jays road to .500 has been as hard as …
Clark Griswold (Chevy Chase) trying to get his damn Christmas lights to work in the greatest Christmas movie EVER:
Neal Page (Steve Martin) and Del Griffith (John Candy) trying to share a bed in one of the greatest comedies EVER, Planes, Trains and Automobiles:
Garth (Dana Carvey) in one of the great comdies of the early 90's ,Wayne's World, getting his hair cut by the 'Suck Cut':
A John Blutarsky (John Belushi) hangover in the classic, Animal House:
Walter Fielding (Tom Hanks) and Anna Crowley (Shelley Long) trying to fix their broken down mansion in, The Money Pit:
The great 'hipster hero' Bill Murray, who plays Phil, in this holy-shit-this-is-how-Blue_jays-fans-feel-every-time-the-team-is-one-game-away-from-.500, Groundhog Day:
And sticking with the Bill Murray theme, the Blue Jays road to .500 has been as hard as the epic battle the Ghostbusters had with the Stay Puft Marshmallow Man: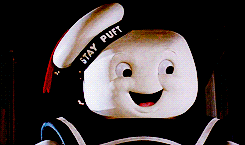 Ahh, fine, just one more for all you Bill Murray fans, so the Blue Jays road to .500 is also as hard as Bob Wiley's (Bill Murray) 'baby steps' in the holy-are-you-kidding-me-so-good comedy, What About Bob? :
And I guess this is a good one to end the trash feed with because please, 'Gimme, gimme, gimme! WE NEED, WE NEED, WE NEED' to have the good Birds of summer FINALLY get over this arduous .500 mountain. PLEASE!
P
L
E
A
S
E
!
PLEASE!
P
L
E
A
S
E
!