Travis Bickle Thoughts For Blue Jays Fans (And Questions About Chris Joyner)
'May 10th. Thank God for the rain which has helped wash away the garbage and trash off the sidewalks.' - Travis Bickle
Blue Jays fans are still waiting for this washing rain, as the good old Birds or should I call them the 'Black and Blue Jays' (actually I will do one better as Blue Jays Nation tweeted them comedically last night as the 'Who Jays?') starting lineup isn't getting any prettier these days. Good ol' Gibbers has had to construct and reconstruct a different lineup over thirty times this season so far (cue hitting play and listening to the Taxi Driver theme song now).
Now the good ol' Jays zealots have to be praying for the good baseball rain to wash away the garbage and trash that continues to curse this ball club because holy fuck have the baseball Gods (if there is such a thing) been spitting all their tobacco chew on the Blue Jays season so far.
And with Kendrys Morales being pulled from the game on Tuesday night with hamstring tightness, it feels like the dirty rain continues to fucking fall on Blue Jays Nation and wash away the hope that the strong Blue Jays fan base (who still dream of a wild card battle come September) has. But if the 'who's' are going to continue to play day-in-and-day-out (and a big fucking 'Canadian Eh!' to the goddamn underdog effort these men are putting out on the field), sooner or later it's just going to be too late for a realistic 2017 comeback that washes away all the April and May trash.
But here's the big question folks (now that Kendrys Morales has aggravated his hamstring), w h a t t h e f u c k i s g o i n g o n h e r e? The simple answer that can be hurled over the goddamn 'internet thread' plate is - THEY'RE OLD! - And sure, I get it, they are a plus 30 team, but ...
... and you can call me one fucking crazy thought producing man if you want, but who's running the strength and conditioning program for the Jays because for fuck sakes is it a coincidence if (and a big hoser IF) Morales hits the DL and $80,535,000 sit on the million dollar bench. I'm not sure, but a JaysDroppings insider, Harley Raven, has drummed up the idea based on the April and May evidence that John Candy and Danny DeVito must be running the strength and conditioning department for the Jays.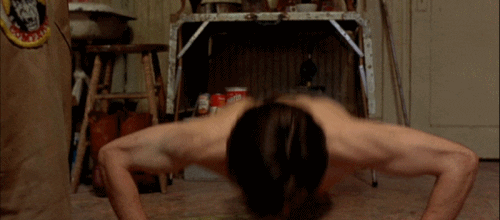 Now we all know that it's Chris Joyner who is the captain of the department and his philosophy on training is, 'prepare, work, recover and repeat this process daily.' Okay, well, recover is most definitely something that this million dollar money bench are doing right now, but how the fuck could the team get to this so fucking early? Really though? Is it just bad luck? Because I'm not sure that it's normal for this many star talents to go down a few strides out of the goddamn baseball gates, am I right?
I mean I just can't wrap my fucking head around it. I know Josh Donaldson plays hard and has had hip and leg issues, but how the fuck does he aggravate his calf to the severity it's at after a fucking winter off to get healthy and prepare for spring training. And I get that Tulo is going to go down a couple times a year, so maybe it is just poor timing that one of his DL stints happened right now. But then you toss in Russell Martin into the mix too, who has cut some weight (with a Travis Bickle knife) during the offseason, which kind of caught a few people by surprise ... and I don't know, but then BANG goes the Bickle gun and now Martin is on the DL. So if Morales hits the old golden bench too, and imagine if Stroman did as well (and I'm not going to mention the other two) - should a finger not be pointed somewhere (because that's what we as people do), no? And you can think whatever you think about my crazy Bickle thoughts: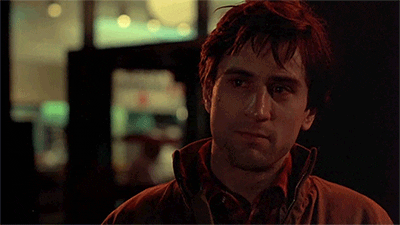 BUT ... how the fuck could Babe Ruth eat hot dogs, smoke cigars, and booze like he was a beat writer and have the greatest career fucking ever? And how the fuck could Dock Ellis take LSD, green, purple, blue - fuck it - the whole fucking rainbow of pills and pitch a steady career? And what about Nolan Ryan who never knew what a pitch count was and hurled well into his dominant forties? Was that just luck? Beats me - I'm know expert on health and conditioning, but ... I don't fucking know, I just know whatever the fuck is going down with the dirty DL list, it should be investigated because bad luck and old is just too fucking easy an answer.
So if the Jays continue to hit the DL and be in the millennial WTF section of the baseball standings this season, you better be Travis Bickle prepared Blue Jays fans because one thing is for certain - this team isn't going to win the golden flags this year - that's for fuck sure (and believe me, I hope I taste my big fucking toe in October, and I'm wrong), and maybe they have some fight to crawl back into something - I guess.
But if things continue to regress as they have so far, a lot of your shit head friends who
are Cleveland, Cubs,Yankees, or Shit Sucks fans are going to take the fucking piss out of you that's for sure - and try to tell me they already haven't because my old man, who is an Indians fan, has been chirping all season and winter long. My best advice for you when the chirps are spoken and tweeted, just handle it with a Travis Bickle:
(Yeah, I went there) And if some of the games are as fucking boring as the May 9th 6 - 0 loss to the Tribe, you can always try to find something else to do like go out to an overpriced movie or just get some fucking ice cream (because who the fuck doesn't like some ice cream) when things are down and your baseball streets are filled with trash, am I fuckin' right?
Now, I'm not saying the season is over here folks - I'm just asking, what the fuck is going on though? Because I think there has to be more to the recent injuries than the team is old or bad luck. I just know as an MLB TV subscriber who watches other games and teams (other than the Jays) that our Birds are not looking so good compared to a lot of the talented MLB rosters out there, and maybe a healthy Jays team could battle, slug, and pitch it out with the best, but that's not what's in our Travis Bickle streets now, is it? But it really can't be a fucking excuse either because the Cleveland Indians made it to the World Series with a Bickle hell of a ton of their stars on the good old dirty DL streets too. At the end of the day, you can agree or disagree with some of these 'bickle' or 'bickering' thoughts, but the Birds our are team and I don't think it's too outrageous to ask a few questions, do you?
-THE END-