Everything Is Blue Jays Awesome
(Marcus Stroman knows all about being awesome)
I think that it's important to write up some awesome trash every now and then, so let's take a look at and analyze the best Toronto Blue Jays moments in Labatt Blue fashion. I need to make note (to you, the reader) that a number of surveys were conducted in order to create a legitimate list (but there is no order to awesome, awesome is just awesome) - so although this is a subjective topic, I hired a team of awesome experts and pollsters to analyze and collect as much data as possible into the Blue Jays awesome, so here we go:
Calum Shanlin's Coghlan Twitter Video
Are you fucking kidding me? This is the greatest thing I might have ever seen a fan make. I kind of couldn't stop watching the awesome that this is - it's addicting. I dare you to try to just watch it once.
The Coca-Cola Blue Jays Commercial and Song
If you're old enough, you will remember. Ahh, what memories - transition thought - damn, I'm getting old.
Iron Sheik WAMCO
What better way to remember WAMCO? Am I right? Well, if you think I'm wrong, it's 'camel clutch' time: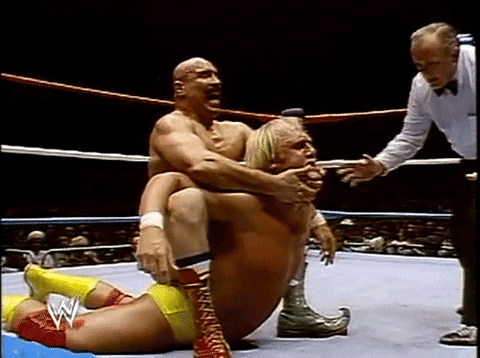 Catch The Taste With Robbie Alomar
Fuckin' eh! McCain's classic 'catch the taste' commercial is just awesome. And, yes, if you remember this, it's just another reminder that we're getting old. Yup.
Exhibition Stadium
If you want to watch a fun piece of history, press play on this one. So many memories were had at the old Ex - which will become a future trash JaysDroppings list, so keep your eye out for the 'Ex' list too.
George Bell's Drop To The Knees Catch
It never gets old - we do, but this doesn't.
Dave Stieb's No-No
Dave Stieb is still the only Blue Jay to toss the no-no, so September 2nd, 1990, is an awesome date in Blue Jays history. Also, take time to admire the great old Municipal Stadium in Cleveland.
The Tom Henke Clinch
It was 1992 and the division race was oh so close. The nation was on edge, and it wasn't until Tom Henke got his 34th save by striking out Tettleton with a runner on first in the ninth that another sellout crowd of Canadian hosers at the SkyDome could chill out, enjoy their beer, and celebrate.
Kelly Gruber Shredding A Guitar At The Horseshoe Tavern
Yes, JaysDroppings found (in the old archives) this great shot of Kelly Gruber chasing his rock star dreams. Kelly Gruber is a rock star, and we all love him, don't we? He's pretty damn awesome.
Aaron Sanchez Sleeping On The Plane
Yeah, ahh, this is pretty awesome. It's always awesome to see the good old boys of sumer clowning around.
The Edwing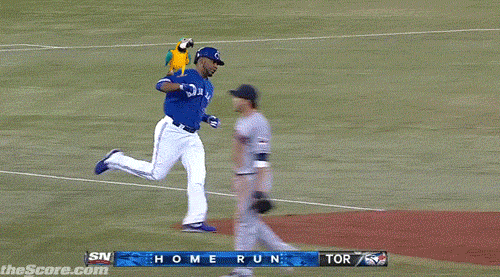 Yes, some of us are still having a hard time with the break up. Thanks for all the awesome, Edwin.
Josh Donaldson's Slide
This is classic Josh Donaldson awesome. Because holy shit when he sprinted off 3rd and went home, the whole nation felt the 'fuckin' eh' of everything awesome in that moment.
Rougned Odor Being Sad
This look on trash Odor's face after another loss to the Blue Jays. Awesome.
Jose Bautista's Bat Flip
It's such an obvious awesome moment. Enough said. Bautista has put his 'bat print' in Blue Jays history - that's for sure. I have an idea Rogers, how about a Bautista bat flip statue?
Joe 'touch em' all' Carter
Ah, yeah, of course, where were you when this happened? That's the fun question - anyone old enough to have lived this moment can remember exactly where they were when Joe Carter took Mitch Williams deep in epic awesome fashion. I have an idea Rogers, how about a statue of Carter' leap of joy next to the Bautista statue at the Rogers Centre, just sayin'.
Roberto Alomar's Fingers To The Sky Homer Off The Eck
The hit that finally put the nasty Oakland A's away. Awesome, just awesome. It's more awesome than pizza on a rainy day kind of awesome.
Damn. Pizza is awesome. Pizza. Fuck , who doesn't love pizza? One thing I've learnt in life, never trust a person who doesn't love pizza. That's not awesome.
John Gibbons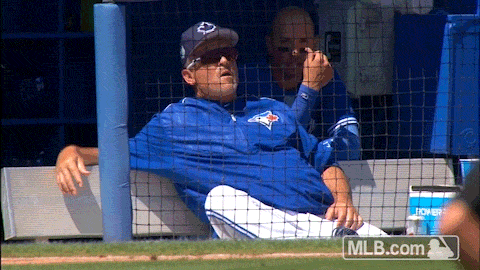 Are you fucking kidding me? John Gibbons is awesome in its purest molecular form. Ask any of your wicked smart 'science' friends - they have the DNA research to back it up.
Carlos Delgado Dingers
Carlos Delgado was awesome during some real shitty times. Thank you, Carlos. Watching him crush balls at the old Dome was great to see in person - believe me.
Roy Halladay
Another piece of awesome during hard times in Blue Jays land. The 'Doc' served every five days, and he served it with awesome 'Doc' couture style.
The Triple Play
Gruber tagged Sanders and everyone knows it. It's the most awesome triple play not recorded in the MLB history books. Period.
The First World Series Win
This was the most awesome thing that the nation shared together, and I've included the entire game for you here. Why not? Awesome never gets old.
And here's the JaysDroppings Blue Jays collection of awesome and reasons why baseball is the most awesome sport on this planet. Period. Sorry Soccer or Football - what ever you want to call it, but baseball rocks the sports casbah.