Raging Birds: An Underdog Blue Jays Tale
(I think you should press play and read this article to this fucking awesome Pietro Mascagni-Intermezzo because it's beautiful and fucking cries win)
I don't know about you (and I know that I'm a bit crazy), but I kind of like this dirty hole that the Blue Jays have dug themselves into because I'm a sucker for the underdog story. The Birds (in Blue Jays fashion) have had yet another slow start to the year and have their backs against the ropes Jake (the Bronx Bull) LaMotta style:
And I could've went with the feel good 'Adrian' Rocky tale, but fuck that – I chose Martin Scorsese's Raging Bull because it's gritty, raw, and real. Now these 2017 Birds have to turn into 'raging birds' to battle their way back into the AL East, and I don't see why the hell they can't. And if it's going to take a Coghlan leap over Molina to score runs and win – I'm all in, of course, I'm always all in with our Birds. And if Stroman is going to step up to the old plate and deliver a double too, well, sign me the fuck up. That's how to take it to the bad luck baseball Gods who won't hurl any calls, breaks, or bounces your way, am I right?
It's not like these Birds haven't been fighting because holy fuck they've been tossing, jabbing, and swinging with all that they have.
The Birds have lost (lucky number) 7 one-run games so far this season. Now, if they had managed to deliver the knock out punch instead of receiving it in these games, the record would be pretty fucking good – but as we all know, the good old Birds are REAL good at losing one-run games, aren't they? So here the Birds are in a dirty hole that's going to take grit to get out of and if they do, it will be fun to watch.
The Blue Jays now stand in the middle of the hazy ring with the focused eyes of a nation watching to see where this tale will lead.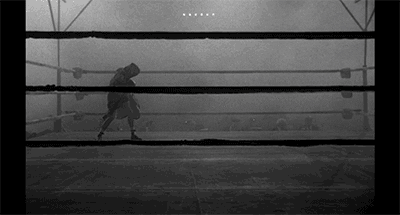 Will it lead to capturing the spirit of winning? Will it lead to despair? Will it lead to a new hope? Who knows? But one thing is for certain, these Blue Jays will play ball and will fight with everything they've got in their baseball dirt rat gut.
And to be honest, I like the cast of characters it's going to take to chip away and break down these walls of April. So, yeah, nothing has gone right for these Birds, as we have all said and read the 'blah-blahs and yadi-yadi-yas', but no one could've predicted the Big 4 April DL list, right?
And then toss in Dalton Pompey with his fuck of a concussion and Bo Schultz too. Earlier in the year, I wrote about what has to go right in order for these Jays to play ball in the Fall, so here's the link to Long Day's Journey Into October (if you want to go check it out), and, yeah, well, ahh, a long day's journey is what it's going to be now. And a damn good one too if this roster has the Jake LaMotta fight in them:
So the Jays are in a nice April hole and it's fucking cold down there, and they are now the down-and-out team who has to rely on underdog players like Goins, Smoak, Barney, Coghlan, Zeke, and I will toss in Pillar too because until just recently his bat has been, ahh, yeah, but how-about-that-glove kind of a thing (and I kind of fucking love this cast of underdogs).
In life, as we all know, when things get bleak and dark the best thing to do is to fight and not quit, and I think the Blue Jays have that fight in them. They have taken a Jake LaMotta style beating so far, but they're not down:
If anything can create chemistry and pull a team together, it's fighting out of a hole and proving people wrong. And if these Birds are going to see themselves climb the fucking standings that is exactly what is going to happen. The time has come for the underdogs of this team to rise up and show some fucking fight. And when Josh Donaldson, Troy Tulowitzki, J Hip (I mean Happ), and Aaron Sanchez come back – they too will have something to prove as well.
I don't look at the 2017 Blue Jays and see a bunch of losers. I see a team that has a group of fighters and a group of underdogs that are willing to do what it takes. I see heavyweights waiting in the shadows to come back. I see guys like Bautista and Steve 'I look like a bouncer' Pearce ready to shut all the people (who wail negative noise) the fuck up.
If I were a Blue Jay, I would feel the rage. I would become the bull – fuck it, they will become the 'raging birds' and they will fight their way back into it. This team has too much pride, too much skill, and too much fight to go down. No one has gotten them down yet - or as Jake LaMotta says, 'you never got me down, Ray'. It's time for these underdogs to rage. I think this dirty hole will be a fun thing to watch them climb out of, as they rage their way forward in this arduous thing called baseball.