Marcus Stroman: Awesome Shimmy Tweets to Vintage WWF Wrestlers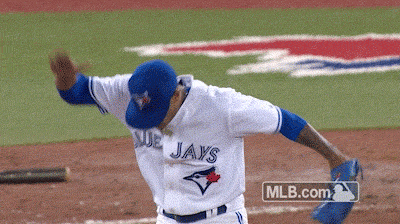 When you think of the egoistic (in a good way) Marcus Stroman, there really is only one word that comes to mind and, ah , yeah, that would be: awesome. I wrote an article last month about the new era and attitude of the Toronto Blue Jays and the rest of the MLB (which you should read, because, why the fuck not - so you can click here once you've finished reading this), and over the course of the past two weeks, the MLB class who participated in the WBC, exuded that attitude in an upbeat and dimensional 'rock n' roll', or should I say - 'Hip-Hop' manner.
This new generation of players should keep on making this game cool and popping it with style, and the amiable #HDMH Kid is one of the leading faces in this prodigious class of ball players who are moving away from being that ol' dull, auspicious type of ball player. Now, I'm not saying that there wasn't a shit ton of cool in previous eras because there most definitely was, but the new MLB has a cast of players who are showing that the league is moving in a new direction.
It is actually quite comparable to Vince McMahon's mid-1990's WWF. In the early 1990's, McMahon was almost imprisoned over a steroid-related trial and to add a little 'juice' to his jazz (what the hell does that even mean) - his business was failing too. It needed to move away from the Hulk Hogan musclebound animals, so McMahon decided to build his brand around a realistic approach using smaller and more identifiable workers like Brett Hart (who was, is , and will always be the best there is – just saying) and, of course, Shawn Michaels too.
And, I must add, that I believe, the #HDMH Kid's behaviour is analogous to that of HBK in his confident approach on the mound.
Here's the HBK's strut:
And here's the #HDMH shimmy strut:
And there is the gum chewing too, here's the HBK: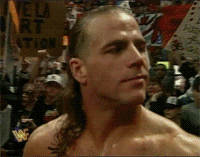 And here's the #HDMH Kid: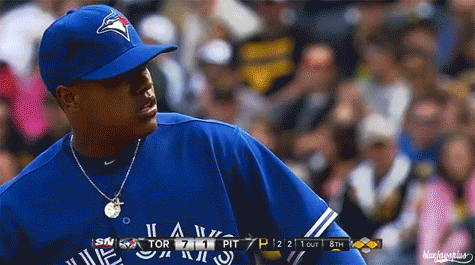 So you might be thinking, where is this JaysDroppings putz going with this? But the MLB, umm, kind of, you know, had their time with the big 'musclebound' animals to
* ahem * (in an Andrew Stoeten way) with Clemens, Sosa, Bonds, and Mr. Mark McGwire – who, by the way, did not autograph my ball in the Galleria Mall in Cleveland when I was an eleven-year old kid – so fuck him, anyway.
And now here we are in the #HDMH 'Bat Flip' new generation of baseball too, where there is a new cast of players who are (pretty much) PED free and bellowing the 'Nature Boy - WOOOO' with Ric Flair style couture.
Marcus Stroman is one of the leading faces of this new generation, and he has shown it once again with his most impressive WBC Championship outing on the ol' dirt hill. He 'shimmy shimmy cocoa puffed' through each inning and was, well, just awesome to watch.
And as we all know, Stroman and the rest of this new generation tweet, Instagram, and are a part of a social media world that did not exist (obviously) before. But damn, wouldn't it have been cool if Dock Ellis or Babe Ruth had access to twitter - oh well.
And during Stroman's dominant WBC MVP performance, the Twitter world exploded with support for the #HDMH Kid.
Here's one of the greatest Blue Birds outfielders ever, Jesse Barfield:
And even the 'bro' Bryce Harper was able to tape together some words in Twitter land too:
The #HDMH Kid is something special, and he proved it again, but this time in front of the whole baseball world - and the Twitter world sure tweeted in.
It's no baseball world secret that the #HDMH Kid tweets his positivity too, and it has been well documented that the kid can tweet some motivational and inspirational quotes as well.
So let's take a look in vintage WWF fashion at some inspirational Marcus Stroman tweets:
And thank you '@1future' for making Marcus Stroman awesome, from us, the fans, too.