The WBC Take Over of Spring Training (And it's okay)
We are almost two weeks away from Opening Day, which is pretty fucking awesome - eh! But the 'MLB Spring Training 2017 World' has gone silent because all the noise has been coming from the World Baseball Classic. And why the fuck not? It's kind of turned into a Paul Newman type of cool, hasn't it? The story lines are there, the shenanigans are there, the rivalries are there, and even the bat flips too.
Let's be honest, who hasn't enjoyed waking up in the morning to Buck Martinez struggling to pronounce foreign names in Japan?! I know I have. And last nights USA rally against the Rougned 'One' Odor's Venezuelan team (actually - MIGUEL Cabrera's team), has set up a gritty Dominican Republic vs. Venezuela game for tonight - or, for the sake of the storyline: Bautista vs. Odor.
So you're hungry Jays fans - I get it. You search the web for some Blue Jays articles, but things are quiet. Here's the thing, the Jays line up is pretty much set, so while you have recently been surfing the old Google web to fill your Jays craving, you probably have found some boring Blue Birds 'dull' click-bait titles out there. I guess you might find the 'Pearce should start first over Smoak' article (and, yes, obviously, he should), or the 'Left Field: Zeke or Upton Jr.?' article, or the 'Tim Mayza Flamethrower' article (and, yes, be excited about him), and, of course, the 'Donaldson/Travis Take at Bats' recovery article, but other than that - not much is happening. The team is pretty set, it has its flaws, it has its strengths - 'we' just have to wait and see (in John Gibbons fashion) how this season will go.
I know you're itching badly for some Blue Jays baseball (and we all are), but there's some fun baseball happening every night right now with All Star caliber lineups - so you should check it out. And, of course, as you probably already know, there are some Jays making headlines in this tournament too.
Let's take a look at the cool that the 2017 WBC has made so far in March. And, yes, Jays Zealots - Marcus Stroman pitched great for team USA, so that's something to be excited about. I don't have a third eye, but my baseball gut tells me the StroShow is going to have a really good season this year. His energy doesn't accept failure:
And since we're on the noise being made by the Jays at the WBC, you would have had to have been buried in the 'March Break Eastern Snow' to have not caught this Bautista wink at Stroman: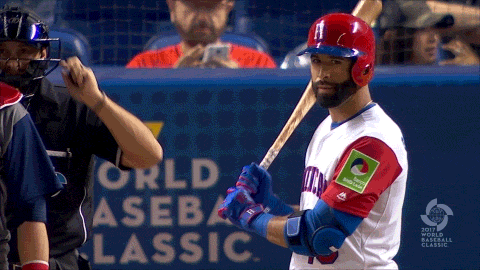 Yup, pretty fucking awesome, isn't it? A Stroman vs. Bautista battle - that wink was 'Cool Hand Luke' cool.
And in other WBC 'fun' news, the new trend in Puerto Rico (Roberto Alomar's home) is the platinum blonde (not the band) hair. Even the almost 40-year old Carlos Beltran has gotten in on the platinum action:
That's Molina being 'straight outta Puerto Rico' cool, and in the background, you can see the 'old dog' Beltran with the platinum goatee. And since Jays fans all know Puerto Rico is the land of Robbie Alomar - it's also the land of Cleveland's Francisco Lindor. Lindor's favourite player growing up as a kid was Alomar, and guess who he kind of has the same baseball playing style as? Yup, Alomar. The truth is, Lindor is my favourite non-Blue Bird player, it'd be nice to see the Shap-At Tribe turn that kid's colours Blue and make that Bird miracle happen. Here's to Bird dreaming.
And let's make note that Japan is on route to California to continue being 'I am Japanese Kawasaki' fun, so wait for them to play the South American big boyz:
It will be interesting to see how this well oiled Japanese machine does the rest of the way.
And finally, there was this WBC clown action:
Yup, the 'meatball' bat flip, heard around the world. I just wrote about this - so you can check out those words in my 'Bautista vs. Odor: Bat Flip Saga' piece. But, I needed to show this again because it sets up tonights match between Venezuela and the Dominican Republic - it should be a good one. And not just because of the 'Days of Our Lives' Bat Flip storyline, but because both these countries produce some of the best baseball players in the world, and they are going to compete like it's the World Series.
This is why the WBC take over of Spring Training 2017 is okay. It's okay because the tournament is stacked with countries who hold a full hand of All Star weapons at the old world baseball 'Cool Hand Luke' poker table. These players play for their countries and with pride, and they don't lollygag like the way they do in Florida in the old Grapefruit League. So enjoy the baseball folks, it's fun. And don't worry Jays Zealots, April is only a couple tall cans of Blue away.